Life Imitates Art – New Material Released in Video #2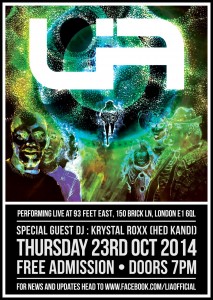 LiA Have just released a new promotional video for their upcoming London show featuring a sample of new material. Check it out HERE
The following details have also just been added to the 93 Feet East Gig Listing HERE
23.10.14
LIVE BAR: LiA – PERFORMING LIVE
WITH DJ KRYSTAL ROXX
07:00 PM – 11:00 PM
FREE ENTRY
"LiA are a South-East London five piece occupying a space somewhere in between aggressive, energetic rap rock, melodic dance music and hooky synth-pop. Their hyperactive sound is matched by a frenetic live show as well uniquely immersive visuals.
Inspiring and under-pinning their music is a sense of dystopian disappointment, post-millennial blues and an anarchic approach to live performance as well as a healthy dose of cyberpunk, science-fiction, Orwellian conspiracy theory and a tacit belief in the existence of extra-terrestrial life. In fact, certain members of the band are more than happy to share stories of being pursued by flying saucers around the city or visitations by ethereal beings, though this is usually met with skepticism from the rest of the group.
Having already shared line-ups with many of their heroes; Sub Focus, Rudimental, Matrix and Futurebound, Example, The 1975 to name a few; the months ahead are going to be an exciting time for LiA, looking forward to performing alongside even more of their idols.
This is a special one-off London performance with all new visuals accompanying the set; it is also the only free show they'll be playing for the rest of the year.
KRYSTALROXX DJ, Producer, Founder of SUPERFOXX.
KRYSTALROXX has taken her DJ sets to clubs and events around the world, whilst touring for international pop star and songwriter Taio Cruz and playing for UK-based record label and music brand Hed Kandi.
For the past three years KRYSTALROXX has been working with producers, musicians and numerous writers on her artist career, and is looking to release her first EP early 2015."
Tags: Dance, dmmlmc, DnB, electro, Guitar, LiA, lifeimitatesart, London, Music Video, newblood, night, pendulum, pop, rock, Time-lapse, wallofsound
This article was written by Dan Baker