LiA Perform Live Acoustic Session for Fubar Radio 15.05.15
  LiA Perform Live Acoustic Session for Fubar Radio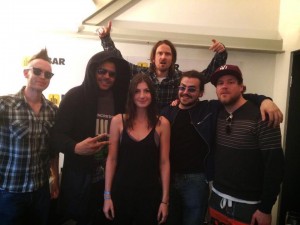 LiA – 'Life Imitates Art' performed a stripped down acoustic take on their fiery, electro-rave fusion of rock, dnb and synth-pop, live on Fubar Radio 15.05.15.
You can check out the show HERE which also includes a clip of the upcoming 'Same Mistakes' single release.
Don't forget you can also check out LiA performing alongside Blur, The Prodigy, Fleetwood Mac and many more at the Isle of Wight Festival next month. LiA will be playing on the Hard Rock Stage, Friday 12th June at 20:45-21:30.
For more information checkout the links below.
Tags: bethere, blur, danbaker, Dance, dmmlmc, DnB, electro, fleetwoodmac, fubarradio, gigs, Guitar, halojones, lauraoconnell, LiA, lifeimitatesart, livemusic, pendulum, pop, prodigy, rock, samemistakes, samemistakes2015, skyadams, whats on london
This article was written by Dan Baker